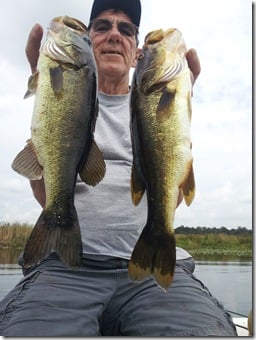 Capt. Tim Fey reporting for Central Florida area. We have had allot of rain, creating moving water and the bass are on the move. Jack and I were out on East Lake Toho this morning scouting and checking out the flow and how it was going to affect the bass out here. Very strong flow coming thru the canals made for some good fishing using Red Eye Shads, Whacky rigged and T-Rigged senkos and lizards. We are going into Fall a time of  weather and water temperatures fluctuates.  The bass will be  moving from shallow water to to deeper water in rapidly cooling water from rain and wind, making great fishing. Due to rains the water levels are looking great.
Come catch your bass with us now!!!
Till next time tight lines and good fishing….
Capt. Tim"Swamp Rat"Fey
Bass Online.com / 888-829-BASS