Fishing is still red hot in Kissimmee
Hi, this is Captain John Leech and this is your fishing report for October 9th.
Fishing is still red-hot in Kissimmee. I took Gary Carpenter who's a buddy of mine from down in the Ft Myer area. Comes up fishing with me on a regular basis, carried him fishing and we had about (45) forty-five fish. We caught the liven day lights out of them, he had a good enough time he's coming back again on this Tuesday.
That's it for now…good fishing it's been Captain John Leech.
About Lake Kissimmee
Lake Kissimmee covers some 38,000 acres from the mouth of the Kissimmee river on the north end to the exit of the river near US Highway 60 on the south end.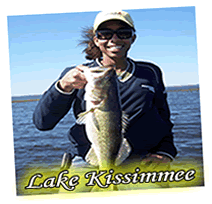 Specializing in largemouth bass, bluegill, black crappie and shellcracker. Part of the Kissimmee Chain of lakes. Expansive stands of native aquatic grasses at Philadelphia Point, North Cove and Brahma Island provide anglers with cover to flip plastic baits or slow-troll golden shiners for spawning bass during the winter and spring. Rattling crankbaits, soft jerkbaits and Texas or Carolina-rigged plastic worms fished in open-water or along edges of vegetation are productive during summer and fall. Fly fishermen have good success wade fishing along the miles of shoreline on Lake Kissimmee. Lake Kissimmee is rich with wildlife, including bald eagles, white tailed deer, bobcats, turkeys and big alligators.