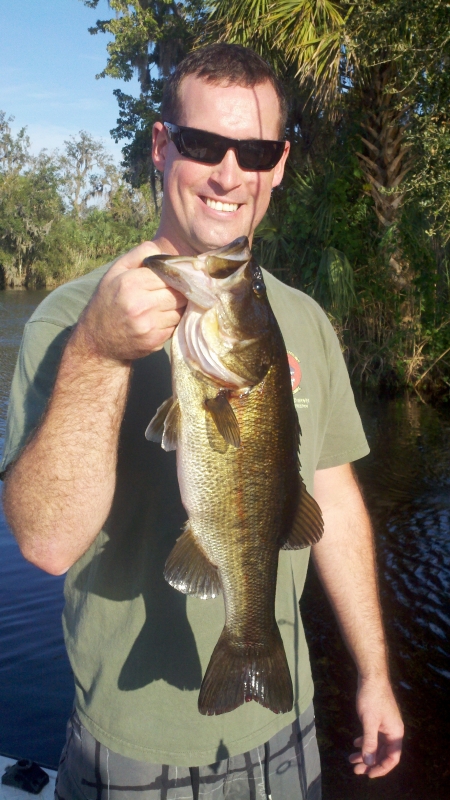 Its hard to believe that 2012 is almost behind us although if you have been on the river lately all the
signs show it with some of the trees showing fall and the specks starting to bite and the bass  schooling
like they are feeding up for the winter it's a sure thing.
I have had some really great artificial and live bait trips lately with customers from as far away   as
Minnesota and Missouri and they had a great time catching bass on a assortment of lures from
SteelShad lures , Bass Assassin Twitch baits and Stanley spinner Baits. Bass have been feeding regularly
along the main river channel points on baitfish as the flow pushes them along up the river the bass and
a occasional Hybrid striper mixed in the bunch bring the water to a froth in their Feeding frenzys.
Since the Menhaden are small the bass do seem to want smaller wild shiners when fishing those around
the schooling areas so when doing this I do normally use a smaller hook ( weedless) along with a smaller
float so the smaller shiners are still able to swim . To large a hook and it will keep the shiners head
weighted down and he won't be able to move freely.
As with every year when the water starts cooling down the Crappie start moving up from the summer
depths and will feed on small hair jigs or tube jigs and either with or without minnows depending on
their mood or just a cork with a split shot between the cork and a small hook with a minnow either lip or
tail hooked will also help you catch a limit of the paper mouth species .
A lot of you know that not only do I fish the fresh waters of the St Johns River and Harris and Kissimmee
Chains I also fish in the Mosquito lagoon for Redfish and Trout and the last couple trips there have been
a success now that water has cleared up and the fish have moved back in the shallows and are biting on
Topwater lures ,Live shrimp and also Berkley Gulp shrimp .
I would also like to say thank you to all those that came out to Palm Coast Marina to say hi, shake hands
and Listen to us Live on WNZF 106.3 radio station and also to everyone that came to Dicks Sporting
Goods in Sanford for the Grand opening it was great to be there to support Pure Fishing .
To Book a trip call or email or for more info about what techniques or lures used contact me
I will see you on the water
Capt. Steve Niemoeller
CFLfishing.com F&S water Charters
Bassonline.com
800-507-0058